How can I make money on MYM fans?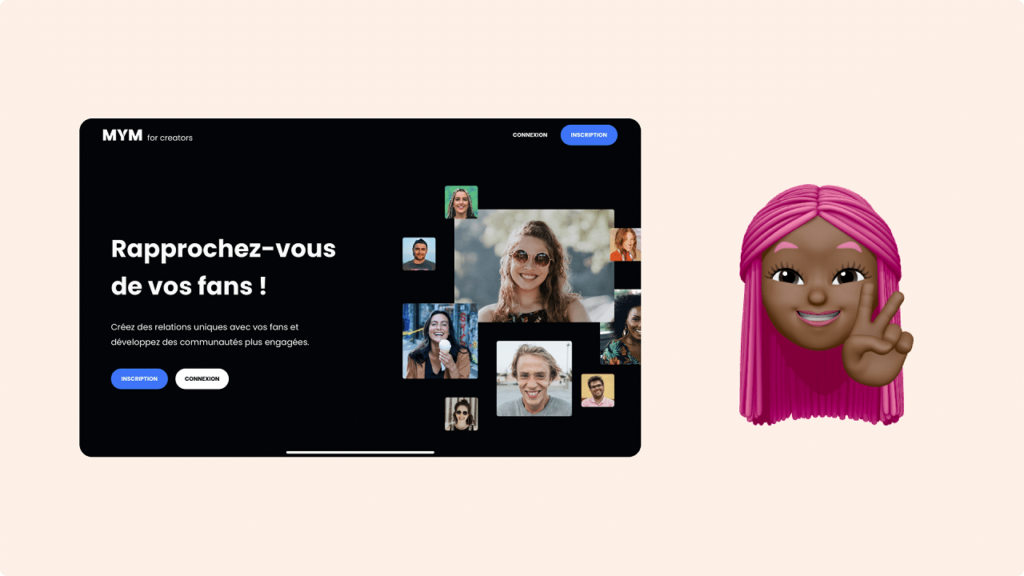 What are MYM fans and how do they work?
Since its creation in France in 2019, the MYM social network has been booming with over 50 million in business volume by 2021. MYM offers an exclusive platform for creators, enabling them to share exclusive content such as videos, photos and lives that they don't share on other social networks. The creators on MYM can be celebrities, influencers, artists or sportsmen, while the users are their fans looking to get as close as possible to their favorite personalities.
MYM offers an opportunity for these creators to monetize their existing communities on other social networks. The MYM concept is simple: fans pay a monthly or half-yearly subscription fee to gain direct access to their favorite personalities and to exclusive content.
How can I make money on MYM fans?
Firstly, there's the artist content subscription option, where fans can take out a monthly or half-yearly subscription to access all the exclusive content released by the creator.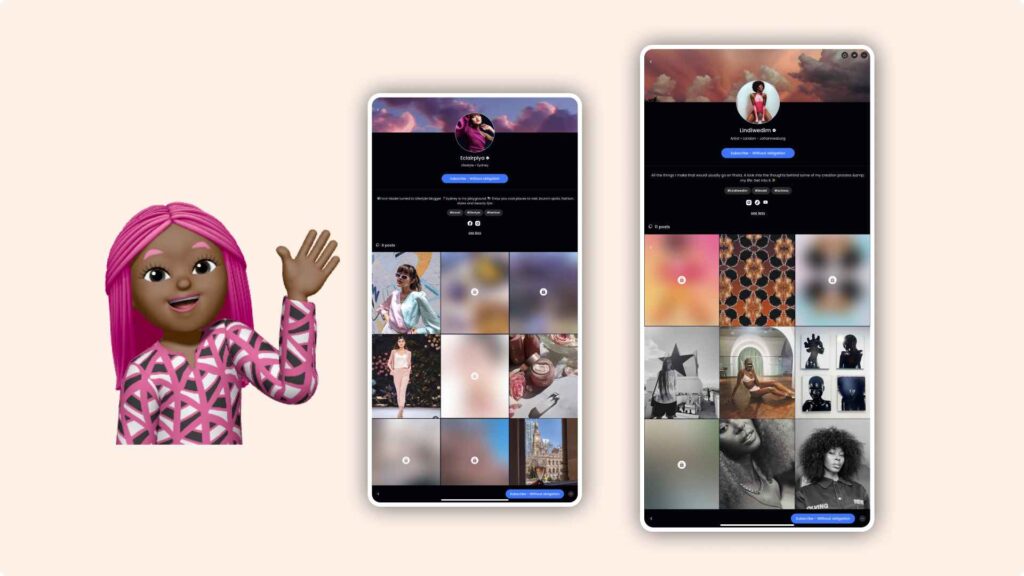 Creators can set their own prices for this subscription, ranging from €9.99 to €99.99 per month.
Subscribers can also engage in conversations and make personalized content requests with creators, who are free to accept or decline by offering a fee.
In addition to subscriptions, creators can also earn money by offering private publications, such as unique videos or photos, on demand, and independently negotiating the price for each request. Tipping is also an option, allowing fans to give extra money to show their appreciation for the content; this option is very popular, especially during Live broadcasts.
A good communicator, who knows how to create quality interaction with her audience, can receive any amount of money from a fan, because there's no limit to the amount that can be tipped, and the platform gives back 80% of the amount, which is quite generous all in all. The majority of fans initially pay a few cents, those who want to be noticed give more and in interviews, MYM models admit that tips now earn them more money than subscriptions, so it really is a source of income not to be overlooked.
The key to earning a lot in tips is to create quality content combined with a strong bond with a solid fan base.
These varied options enable creators to monetize their talent on multiple levels and connect with their audience in meaningful ways, offering exclusive content and unique interactions.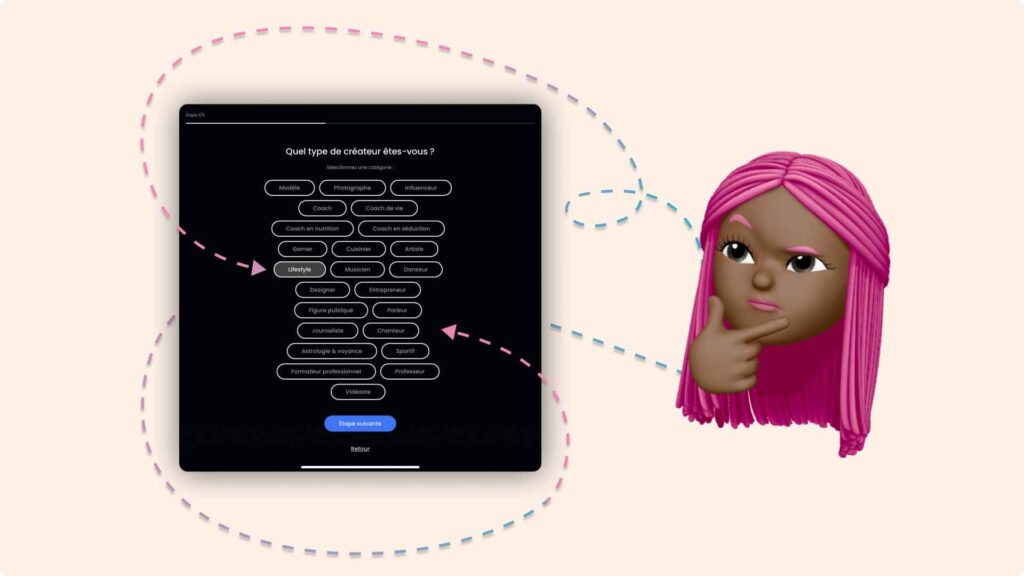 As
you've seen, there are many ways to earn
money, and even the most talented and active designers can manage to earn a lot of money every month. Let's take a closer look at the options available to content creators on MYM.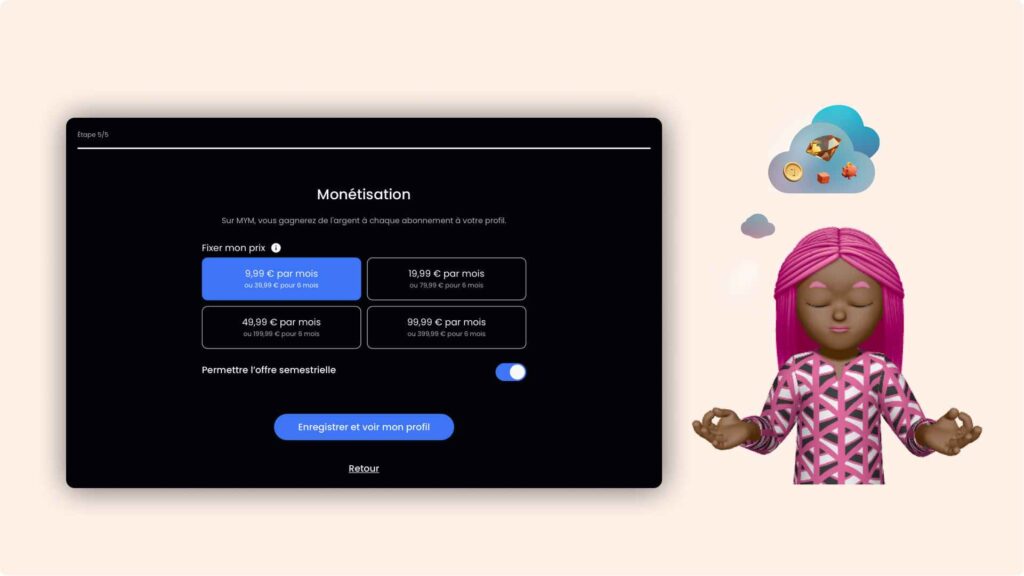 First, there's the subscription to the artist's exclusive content. The cost of the subscription is determined by the creator himself, with the option for fans to choose between a monthly or half-yearly subscription, the latter offering a small discount over the former. Subscribing fans can then engage in private conversations and make personalized content requests to the creators, who are free to accept or decline by offering a price.
There are four subscription formulas:
the cheapest at €9.99 per month or €39.99 for six months;
the second at €19.99 per month or €79.99 for six months ;
the third at €49.99 per month or €199.99 for six months ;
and finally the most expensive at €99.99 per month and €399.99 for six months.
The MYM Fans platform is designed to remunerate content creators while taking a commission to cover its own costs. Models can therefore expect a high percentage of the income generated by their subscriptions, private media and tips. To be precise, models receive 75% of the subscription price, private media 80% and tips 90%. However, it's important to note that creators must also take care to comply with current laws and regulations, such as the payment of VAT.
How much do the most popular designers earn?
Astrid Nelsia, a French reality TV actress, revealed to a journalist that she earns between 20,000 and 100, 000 euros a month from her presence on MYM. These figures are not unique to Astrid, as many other content creators are taking advantage of the platform to monetize their talent and earn fortunes, including former reality TV star Aurélie Preston and YouTube artist Emma CakeCup.
Recently, in January 2023, Alexandre and Amandine Pellissard, known for their participation in the reality TV show "Famille nombreuse, la vie en XXL", explained on C8's "Touche pas à mon poste" that they charge between 60 and 150 euros per private video, and around 20 euros per photo. According to them, this has turned into a very lucrative business.
Nathalie Andreani, known for her stints on reality shows Secret Story 8, Les Anges de la téléréalité and La Villa des cœurs brisés, has revealed in the media the income she generates thanks to the MYM app. She now devotes all her professional activity to this as a creator of erotic content. According to her, a private photo can be sold for between 20 and 100 euros, while a personalized video can range from 20 to 200 euros.
More and more male celebrities are signing up to the platform, including DJ Snake, ex-footballer Djibril Cissé, actor Jean-Claude Van Damme, and reality TV stars Adrien Laurent and Illan Castronovo. Adrien Laurent, who uses MYM declared a monthly income of between 30,000 and 40,000 euros.
However, the main point is that anyone, ordinary people and not just stars, can make money this way. With MYM, everyone can find their audience, find recognition for their content. As MYM representatives point out, successful models on their platform can earn 50,000 euros a month or more.
How much can I earn with MYM fans?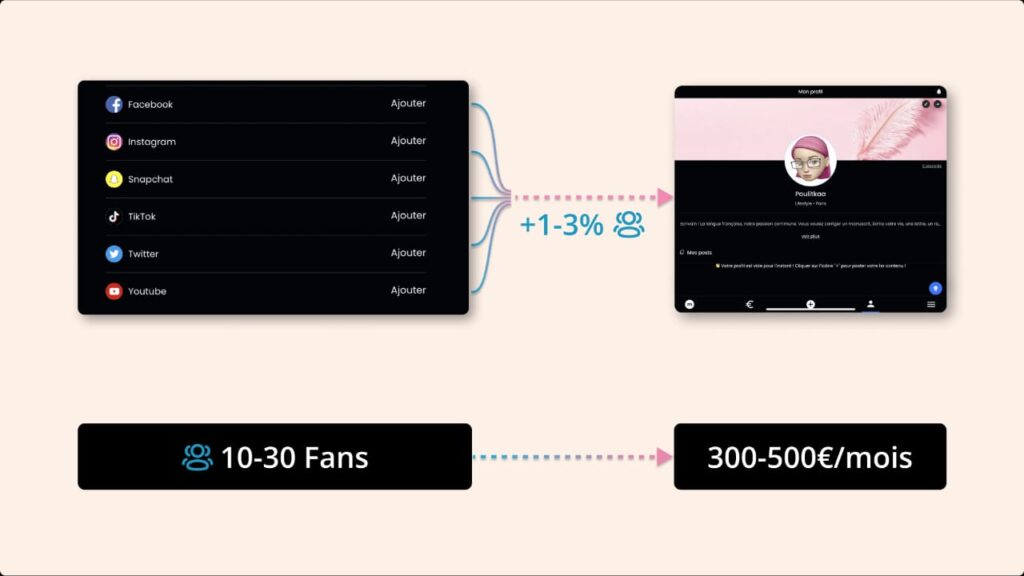 For those who already have a community on other social networks and want to monetize it with exclusive content, MYM is an ideal solution. It's therefore advisable to already have a good fan base on Instagram, TikTok or Snapchat. According to the statistics, you can convert 1 to 3% of your active community into a subscription, you can reasonably start earning money once you have 1,000 fans, and in general, you can hope to attract between 10 and 30 subscribers to MYM from this base. The more followers you have on Instagram, TikTok or Snapchat, the more potential subscribers you have on MYM. This can generate between 300 and 500 euros in the first few months, and with regular work and quality content, beginners can reach 3,000 euros after a year.
| Social networking | Audience transition percentage |
| --- | --- |
| | |
| | |
| | |
| | |
| | |
| | |
| | |
The target of 30,000 euros per month is not unrealistic, but it requires a greater investment, with a real image strategy. The most talented men and women have their destiny in their own hands on MYM fans, an original, creative, new or niche positioning with high-quality, regular content, perfectly delivered customer proposals and very quickly the creator finds himself propelled to the top of the platform's Top, the algorithm pushes because success leads to success, and the virtuous circle is underway. The goal of 30,000 euros per month is achievable on MYM fans, as many creators are testifying in the media.
To maximize earnings on MYM, it's important to effectively promote your account to your existing community. It's a principle of communicating vessels, where a growth in your follower base on other social networks translates into an increase in subscribers on MYM, and therefore potential revenue. It's also important to maximize recommendation algorithms by publishing quality content.
It's advisable to take care with the format and content published, so the algorithm will particularly appreciate aesthetically pleasing, well-crafted High Definition photos, a neat portrait with a face that's visible and not blurred, or a full-body photo that's not cropped, a style that's not vulgar but sexy and trendy. It's important to note that the algorithm dislikes selfies, text, smileys and phone numbers in photos, and may implement restrictive measures if these practices are detected. If you meet all these criteria, the algorithm is sure to sponsor you with users who like like-minded accounts.
How do I create an account?
When registering as a content creator on MYM, the site address is unique for creators. Users can choose to register easily using a Google account, or by using the classic registration option with email and password, or by using their own account. Facebook. WhenOn the all-black home page, you can continue configuring your profile by entering your name, date of birth and gender.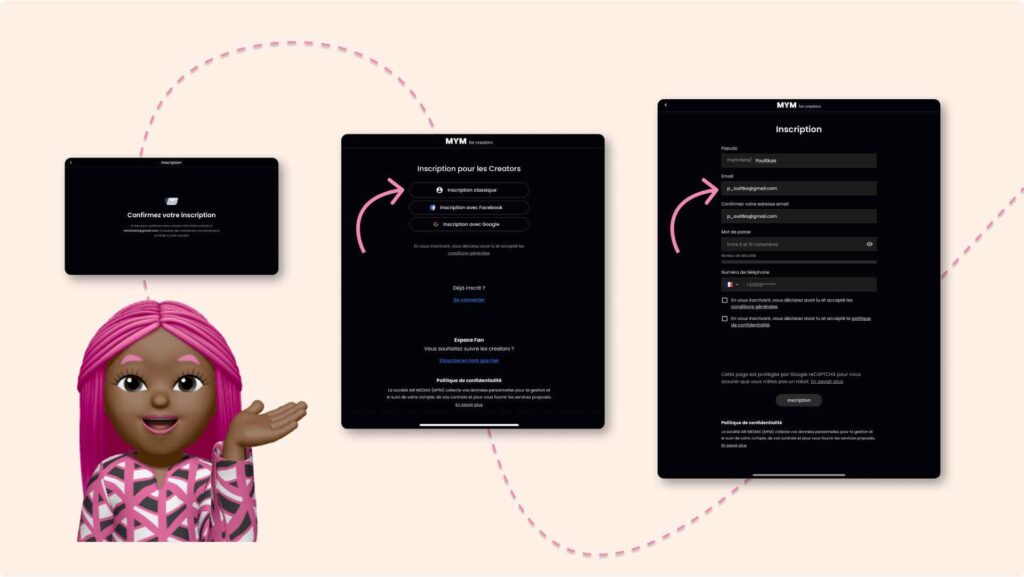 The site specifies that this information is confidential. When setting up your business, you can choose from a wide range of artistic and personal service activities, such as coaching, cooking or nutrition, but you can't choose to work as a writer, although you can choose to work as a journalist or teacher. The next page is where users enter their profile photo, bio and what they're offering. We recommend choosing a small profile photo, and there is no possibility of cropping the photo.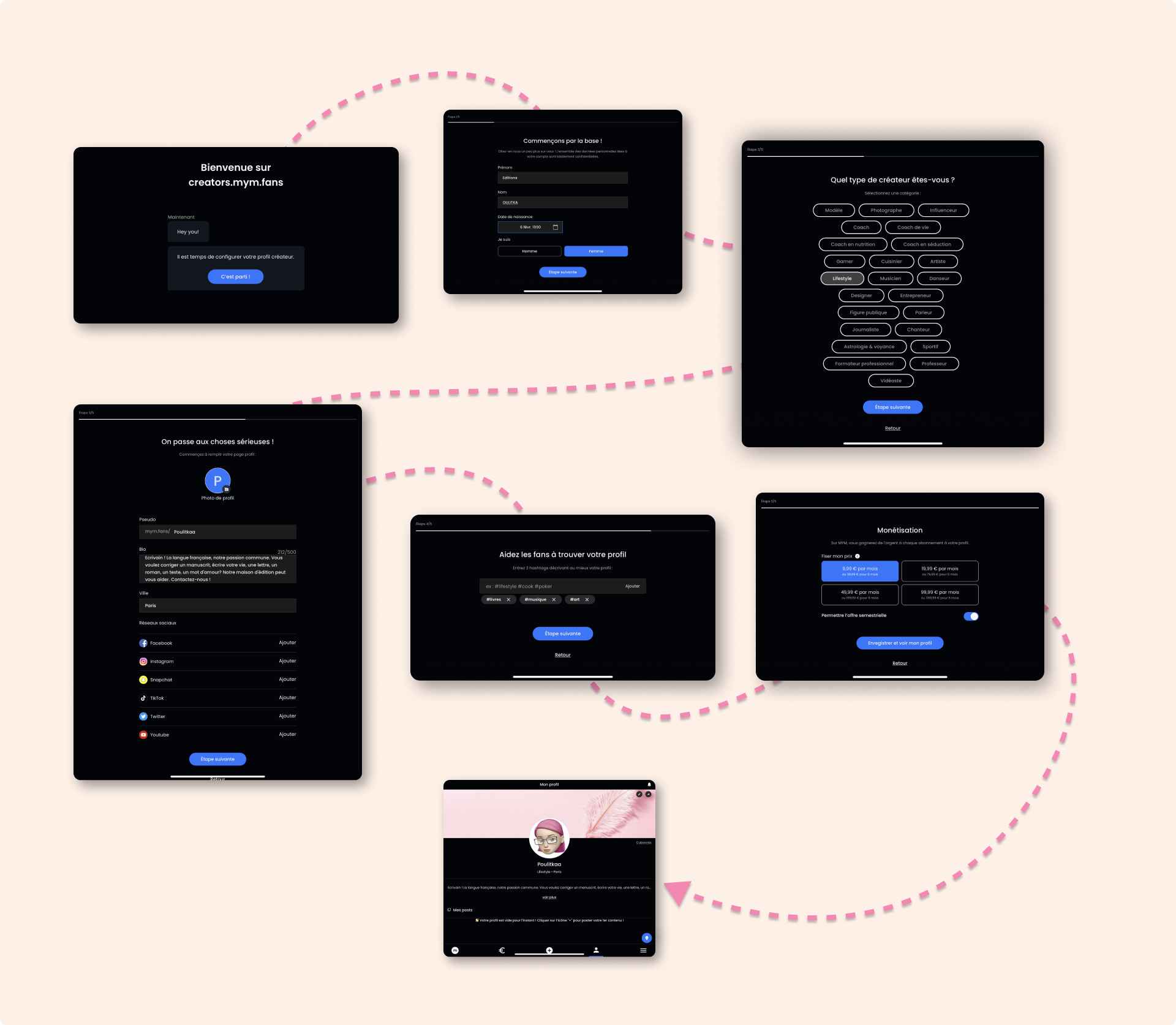 When registering as a content creator on MYM, the user has the option of choosing a nickname, which will take the form of mym.fans/pseudo_user.
The site also asks users to fill in a bio, describing what fans can discover on their profile and what type of content they can request.
It's also possible to link your MYM account to other social networks, such as Facebook, Instagram, Snapchat, TikTok, Twitter and YouTube.
Step 4 is difficult: you have to find three hashtags to represent your profile, but fortunately you can change and improve them later in the settings.
Step 5 is monetization, at which point you select the amount of the subscription you wish to charge your fans, depending of course on your reputation and type of activity.
Once the profile has been created, you need to complete it, for example with a banner at the top, or specify the URL of your YouTube channel. However, if you have a classic website, you don't have the option of linking it to the profile.
When you register on the MYM platform, you're not asked to verify your email address, nor are you offered the option of multi-stage account security. This option will certainly be offered later when you want to have a certified account. No telephone number or ID is required. It's possible to create a profile under a false name, and put up a photo that has nothing to do with yourself. However, it is important to read the general terms and conditions of sale, even though they are 35 pages long when copied and pasted into a word processor.
How to write and publish my post in my MYM account
To write your first post, click on the blue arrow at the bottom of the drop-down menu on the left, and a + button will appear, offering a choice between Post, Story and Push. To create a post on MYM, the user must first upload an image. They are then invited to write a caption for the image. The end result looks a bit like a post on social networks like Instagram or TikTok. There are also options for blurring the image, which may be necessary for certain types of content.
In the profile settings, users can also choose to block access to their content from certain countries, hide the number of subscribers and even have a hidden profile, allowing the user to maintain a certain degree of confidentiality. It is absolutely possible to have a secret profile on MYM.
So for those seeking maximum discretion, even intimacy, it's possible to have a MYM account without showing your face, and even go as far as total confidentiality.
Now, if you want to see what other designers are offering, go back to the home page and sign up for MYM for fans. at this address https://mym.fans/app/feed and not on the MYM for creators, these are two different sites. Using the same Google account for the creator site and the fan site, it works without a problem.
How do you promote a MYM fans account with zero or no social media subscribers?
To expand your community on MYM without initially having a base on other social networks, you can use different techniques. It's a good idea to join forums and newsgroups related to your field of activity to publicize your work, but it's important to do so judiciously, as self-promotion and advertising are often restricted by moderators. It's also a good idea to create an Instagram account and a TikTok account with the same name as on MYM, and to look after them daily with quality content. This will create a snowball effect.
The way to really boost your content from scratch is to find other content creators who are in the same situation or who have succeeded and would be willing to lend a helping hand. In collaboration with other experienced creators, it's possible to offer original, attractive and above all engaging content that will attract new fans for both parties involved. It's called a win-win strategy, and it's well worth the investment: the results are immediate on both sides.
Finally, if the content you're offering is sensational and deserves to be known quickly, you can self-promote with promotional offers on subscriptions and spread the word in any way you can, even using paid advertising on other platforms.
In short, there are many ways to expand your community on MYM even without having an initial base on other social networks. It's important to choose the ones that best suit your field of activity and content style, and to put them into practice regularly and strategically to achieve satisfactory results.
How do I withdraw money from a MYM fans account?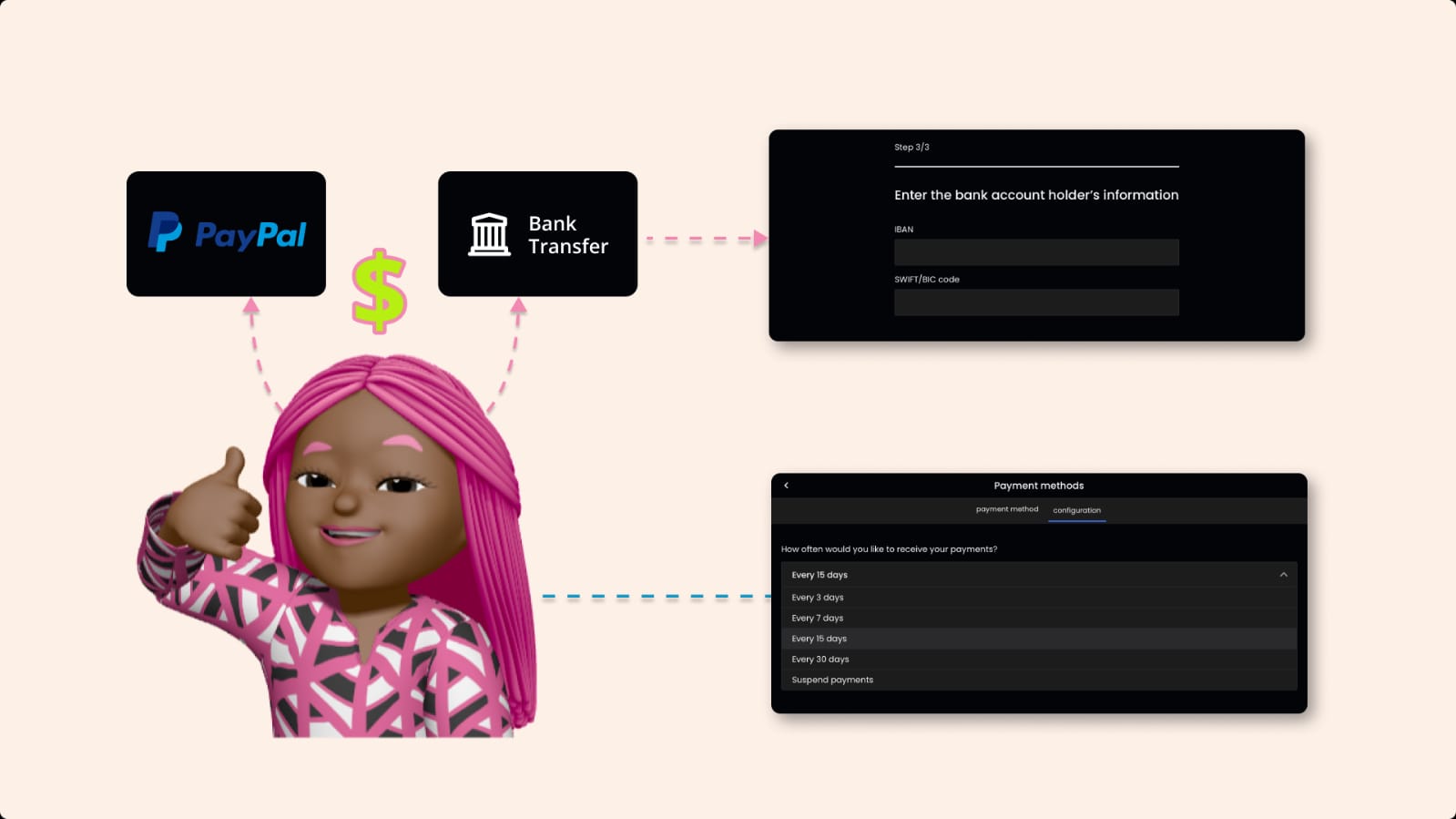 Three conditions must be met to obtain a payment on MYM. According to the site, these requirements have been put in place for transaction security reasons. To do this, you need to have a certified account, add a means of payment, and have a minimum of 50 euros of validated winnings pending. For business accounts, a fourth condition is also required, namely to send a monthly invoice for the amount of the winnings to release the payment.
Certification is an essential step before you can monetize your account and withdraw earnings legally from your bank account. The site requires a profile with a minimum of five publications, confirmation of identity and telephone number, bank details and a photo ID to avoid any disputes. MYM can't certify two accounts with the same contact details, and sometimes it asks you to switch to a professional account for content that represents the user but for which he or she doesn't have distribution rights. For all special cases or niche content, the site offers a help section that explains everything in detail.
Once the creator's account has been certified, payments can be withdrawn automatically by transfer to the bank account associated with their MYM profile, according to their needs: twice a week, once a week, twice a month or once a month.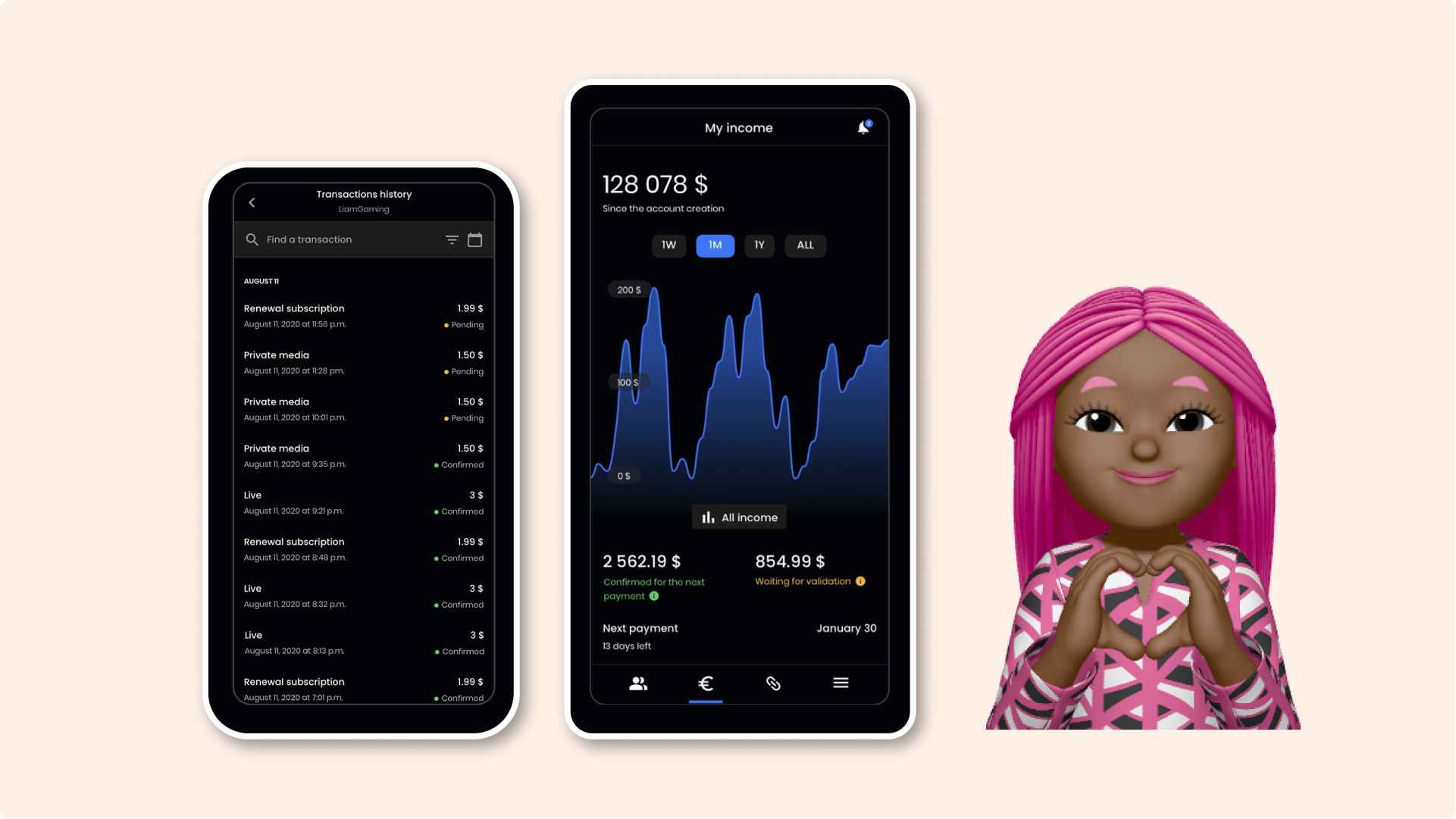 In conclusion, MYM is an innovative platform that enables creators to monetize their talent and generate engagement with their community of fans. It's a new way for creators to generate revenue by offering exclusive, private content to users who subscribe to their account. However, to maximize earnings, it's important to skilfully promote your MYM account to your existing community, especially on other social networks. It's also important to take care of the format and content published on MYM to attract fans and maximize the chances of being recommended by the platform's algorithm.
All in all, MYM offers a new opportunity for creators to generate revenue through the independent engagement of their community. Everyone can find their own recipe for success on the platform, using various promotional techniques, proposing quality content and creating win-win collaborations.
It's important to note that it takes time and effort to build a solid, loyal community, but the results can be very rewarding. In short, MYM is an innovative way for designers to gain direct exposure and earn money from their talent. May the best man win!